There are three options for Professional tooth whitening
Take Home Whitening Gel
The Opalescence tooth whitening gel is the best take home professional whitening product on the market. It comes in 10%, 15%, 20%, and 35% carbamide peroxide. This whitening gel is dispensed into a custom tray made by Dr. Tang and his staff to hold the gel intimately in contact with your teeth to bleach out stains. The PF in the formulation stands for potassium nitrate and fluoride which helps to prevent sensitivity and strengthen your teeth as it remineralizes your enamel.
In-Office Teeth Whitening
Dr. Tang uses Opalescence Boost containing 40% hydrogen peroxide in conjunction with a diode laser to whiten your teeth in-office. The visit typically takes about 90 minutes as we put a block out material over your gums, apply the whitening materials to your teeth, and potentiate the whitening gel with our laser, while you watch a movie or tv.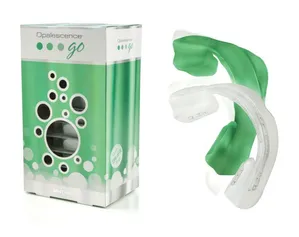 Opalescence Go
Opalescence Go is the professional alternative to over-the-counter whitening options. It's a simple, fast, and great-tasting way to start a whitening treatment or for whitening touch-ups. With no impressions or custom trays necessary, Opalescence Go is ready to use right out of the package!