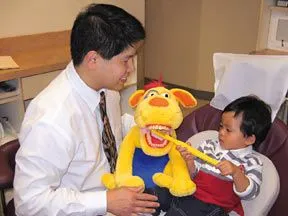 The American Academy of Pediatric Dentistry (AAPD) recommends that children have their first dental visit by age 1 or within six months after their first tooth erupts. This is because decay can start as soon as their first tooth is exposed to sugary foods or carbohydrates. Therefore, it's important to start taking care of those primary teeth as soon as they peek through the gums.
At your child's first dental visit, Dr. Keith Tang will count his or her teeth, check for cavities, and give you helpful tips to make sure your child's teeth stay healthy. Dr. Tang has been in practice for over 25 years and usually sees that children who see him by age 1 have the best dental experiences and the fewest dental issues. It warms his heart as many of his child patients have told their parents, "We have to call Dr. Tang right away!" whenever they have they have a pain in their mouth, a loose tooth, or other dental concern.
Keeping your child's primary teeth healthy is vital to speech development, chewing nutritious foods for proper growth, and their self-confidence in social situations. It's never too early to establish good habits.