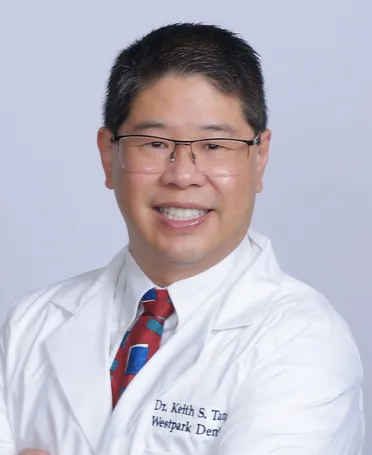 Dr. Tang graduated from the UCLA School of Dentistry in 1992. After completing a one-year General Practice Residency at the Loma Linda Veteran's Hospital, he started a successful private practice in Yorba Linda which he later moved to Irvine, CA. Dr. Tang believes in a systematic approach to dental care with treatment recommendations that help people have Healthy Teeth and Gums for a lifetime!
To offer his patients the best dental care that is available, Dr. Tang invests in new technology and attends many continuing education courses each year. Some of the special programs that he has participated in include a Mini-Residency in Esthetic Dentistry at UCLA, Invisalign Level 1 & 2, Straight Wire orthodontic series, and a series for Guided Implant Surgery, Bone Grafting & Restoration of Biohorizon Implants. Dr. Tang's high standards of excellence and commitment to advancing his education are further evidenced by his attainment of Fellow of Academy of General Dentistry & his reviews on social media.
As a family dentist, Dr. Tang sees a lot of children. To promote preventive dental care, Dr. Tang has spoken at numerous preschool and elementary schools in the Irvine. CA. His presentation, on PowerPoint, included a demonstration on brushing & flossing with Doogan (a puppet), and a short cartoon showing Gena the Giraffe visiting the dentist. Many of the parents commented that their children took much better care of their teeth after learning how to keep "sugar bugs" from eating a hole in their teeth.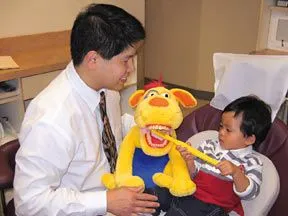 Dr. Tang has participated in the "Ask the Experts" panel for Orange County Parenting magazine and was also featured in the following articles:
"Ask the Experts" panel for Orange County Parenting magazine and was featured in the January 2005 issue for an article on "Thumbsucking,"
August 2006 for "Toothy Dilemma" (Why It's Important to Take Care of Cavities in Your Child)
July 2007 "Toothy Situation" (Tips On Brushing and Flossing a Toddler's Teeth).