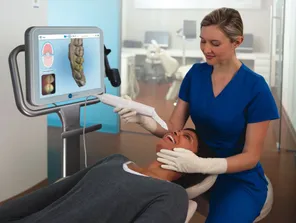 Dr. Keith Tang uses an Itero digital scanner to take an optical impression of a patient's teeth and mouth to wirelessly send it to his dental labs for crowns, implants, study models, sleep/snoring appliances and Invisalign. The wand uses a laser to scan and record images of your teeth and soft tissue while the computer uses an algorithm to stitch the data together and generate the 3D model. The digital models are much more precise than convention impressions with no goopy mess since images are obtained passively and movement does not distort the impression.
To be one of the best dentists in Irvine CA, Dr. Keith Tang invested in this new technology because it improves the accuracy of the impressions and therefore the quality of the dental care. Since adding the Itero scanner to the office, he and his staff have noticed that crowns often drop to place on the tooth with little to no adjustments and fit seamlessly. In fact, during the first few months, we had the iTero scanner, my main dental assistant would smile after a crown cementation and say "I love iTero!" since the visits were much shorter and the crowns fit so much better.
The iTero digital scanner is manufactured by Align Technologies, makers of Invisalign. As an added benefit, we get our digital models to Invisalign in 15 minutes and frequently receive the first Clincheck digital treatment set up in less than 24 hours. Align Technologies boast that because the fit of the aligners is more exact than traditional PVS impressions, they see better results with teeth movement.
Dr. Tang also uses his Itero scanner to take 3D optical impressions of teeth and gums for surgical guides used to treatment plan and precisely place implants. Using a 3D Cone beam CT x-ray and merging the iTero intraoral scan with special software, he can 3D print the surgical guide right in his office.